Upcoming Events
26/07 2018
CRS Information Sessions | Multiple locations & dates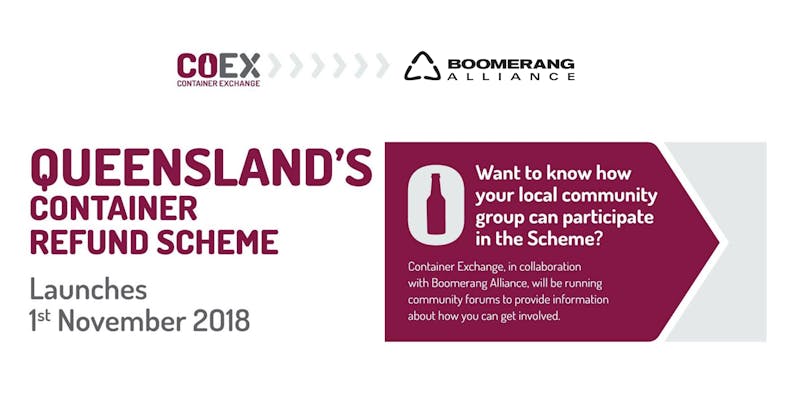 QUEENSLAND'S CONTAINER REFUND SCHEME
Launches 1st November 2018
Under the scheme, eligible beverage containers will be worth 10c each. This may encourage community groups to organise the collection and return of containers within their communities to raise additional funds.
Container Exchange, in collaboration with Boomerang Alliance, will be running community forums to provide infomation about how you can get involved.
Locations are listed below and you can register for one of these sessions by following this link. Note that some venues are still TBA, if you register for one of these we will email you when a venue is arranged with further information.
---
North Qld

Cooktown Tue, 31 July, 5-6:30pm @ PCYC Events Centre, 3 May St, Cooktown
Cairns Wed 1 August, 5-6:30pm @ Brothers Leagues Club, 99-107 Anderson Street, Manunda
Innisfail Thur 2 August, 5-6:30pm @ Disaster Management Centre, 11 Flying Fish Point Rd, Innisfail
Townsville Mon 6 August, 5-6:30pm @ Townsville RSL, 139 Charters Towers Road, Hermit Park

Central Qld

Bowen Tue 7 August, 5-6:30pm @ Bowen PCYC, Cnr Hay St & Queens Rd, Bowen
Mackay Wed 8 August, 6:30-8pm @ Harrup Park Country Club, 89 Juliet St, South Mackay
Rockhampton Mon 13 August, 5-6:30pm @ Rockhampton Leagues Club, cnr George & Cambridge St, Rockhampton
Emerald Tue 14 August, 5-6:30pm @ Emerald Town Hall (Supper Room), 33 Egerton St, Emerald
Gladstone Thur 16 August, 5-6:30pm @ Oaks Grand, 79 Goondoon St, Gladstone Central

Wide Bay

Bundaberg Tue 21 August, 5-6:30pm @ Brothers Sports Club, 130 Takalvan St, Bundaberg
Hervey Bay Wed 22 August, 5-6:30pm @ Urangan Community Centre, Hervey Bay Botanic Gardens, Elizabeth Street, Urangan
Gympie Thur 23 August, 5-6:30pm @ Gympie RSL, 217 Mary Street, Gympie

Sunshine Coast

Noosa Tue 28 August, 5-6:30pm @ The J Noosa (Upper Foyer), 60 Noosa Dr, Noosa Heads
Nambour Wed 29 August, 5:30-7pm @ Nambour Crushers Clubhouse, 22 Crusher Park Dr, Nambour
Caloundra Thur 30 August, 5:30-7pm @ Caloundra Community Centre, 58 Queen St, Caloundra

Darling Downs

Toowoomba Tue 4 September, 5:30-7pm @ All Seasons Function Centre, 302 North Street, Toowoomba
Dalby Wed 5 September, 5:30-7pm @ Dalby Leagues Club, Cnr Orphen & Drayton St, Dalby
Warwick Thur 6 September, 5:30-7pm @ Warwick RSL, 65 Albion St, Warwick

Gold Coast

Nerang Tue 11 September, 5:30-7:pm @ Nerang Bicentennial Centre, 833 Southport Nerang Rd, Nerang
Currumbin Wed 12 September, 5:30-7pm @ Currumbin RSL, 165 Duringan St, Currumbin

Brisbane & Surrounds

Brisbane Central Sat 25 August 10am-12pm, Location TBA
Caboolture Mon 17 September, 5:30-7pm, Location TBA
Redlands Tue 18 September, 5:30-7pm, Location TBA
Ipswich Wed 19 September, 5:30-7pm @ Metro Hotel Ipswich International, 43 South Street Ipswich
Logan Thur 20 September, 5:30-7pm, Location TBA

West Qld

Longreach Mon 24 September, 5:30-7pm @ Longreach Civic Centre, 96A Eagle St, Longreach
Mount Isa Thur 27 September, 5:30-7pm @ Mt Isa Civic Centre, 23 West St, Miles End
Roma Tue 2 October, 5:30-7pm @ Roma Bowls Club, 35 Lovell St, Roma
St George Wed 3 October, 5:30-7pm @ Balonne Skills Centre, St George High School, Victoria St, St George
If you have any questions, please email Kellie at kellie.lindsay@boomerangalliance.org.au
---
28/07 2018
National Forum | Wollongong | 10 September
Low Carbon Homes for Low Income Households
The CRC for Low Carbon Living warmly invites you to our next National Forum: Low Carbon Homes for Low-Income Households at the University of Wollongong on Wednesday, 8 August.
Low income families throughout Australia often live in homes that have poor energy efficiency and thermal comfort, with the potential to lead to significant health impacts. Combined with the exponential rise in national energy prices, low income and vulnerable residents often report having to choose between paying for fuel and purchasing essential items like food or medication.
Kellie Caught, Senior Advisor at the Australian Council of Social Service, and Jonathan Leake, Director of Business and Built Environment at Sustainability Victoria will deliver keynote addresses at this National Forum, which is presented by the CRCLCL Research Node of Excellence at the University of Wollongong.
This National Forum seeks to generate a better understanding of the energy-related challenges faced by low income households in our community and how to provide them with affordable, energy efficient homes.
WHEN:
10am – 5.30pm, Wednesday, 8 August 2018
WHERE:
Ocean Rooms, The Central,
Innovation Campus
, University of Wollongong, Squires Way, North Wollongong, NSW 2500
DETAILS:
---
01/07 2018
Open Day & Fun Run | Glenmorgan | 26 August 2018
Myall Park Botanical Garden Spring Open Day
Plant Sales
Market Stalls
Fun Run
Photo Exhibition
Janine Pechey Memorial Garden
WHEN:
Sunday, 26th May | 10 am
WHERE:
COST:
Open Day: $10 Entry (Morning tea and lunch available)
Fun Day: Adults – $ 40 (early bird $35)
Children (under 13 years) – $ 20 (early bird $15)
Family (Max. 2 adults 4 chn) - $100 (early bird $95)
CONTACT:
Myall Park Botanical Garden Spring Open Day poster
Fun Run registration form
---
27/07 2018
Rally | Canberra | 10 September
Stand Against Extinction
Australia is facing a national extinction crisis and our environment laws are broken. But it doesn't have to be this way…
With stronger laws to protect species and their habitat and more resources to invest in recovery and restoration, we can bring our threatened species and ecosystems back from the brink.
But we need to send a powerful message to our politicians…
If thousands of Australians descend on Parliament House to take a visible public stand against extinction and demand strong #naturelaws, our leaders will be forced to act. We are planning to bring thousands of Australians to celebrate our wildlife and demand action following Threatened Species Day (7th September).
Join us in Canberra on 10th September 2018 and take a stand against extinction.
We need your help to bring together 2000 people who are willing to stand up for the wildlife, people and places we love to represent Australia's 2000 threatened species. Will you join us?
WHEN:
Mon. 10 September 2018 | 9:00 am – 10:30 am AEST
WHERE:
COST:
Free
PYL will be offering to reimburse costs for anyone who wants to catch public transport to get to the event from Melbourne, Sydney, Albury and NSW nearby Canberra. We've got incredible volunteers doing research to find out what buses will be leaving when to get you there one time - register for your free ticket + free bus seat now and we'll be in touch with more info soon.
CONTACT:
---